WELCOME TO JERUSALEMSAINTS
<![if !vml]>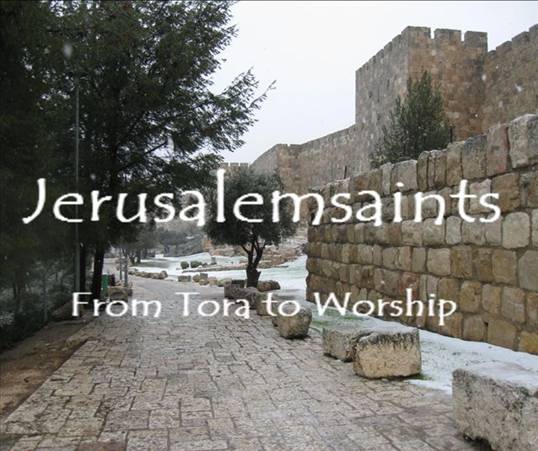 <![endif]>
Welcome to our website.
Blessed is he who comes in the name of YESHUA!
Shalom, Peace may flow from the Throne of YESHUA our Messiah, Lord, Savior, Teacher, Pastor, Healer, Prophet and Elohim/God.
The Lord put each one of us in a different place in the globe, and here we can drink from streams of revelation and teaching of spiritual bread from Yerushalaim (Jerusalem) and Israel to any place in earth.
Introduction
In the following we will try to describe how the Lord YESHUA wants us to approach to Him.
The first thing necessary is to receive, recognize and confess YESHUA not only as our Lord, but also our Teacher, Shepherd and Elohim (and of course any other attribute), specifically for the sake of learning we must recognize Him as our Teacher, if we want to learn from Him.
But do not you be called Rabbi, for One is your Leader, the Messiah, and you are all brothers.
(Matthew 23:8 LITV)
If we receive, confess and proclaim YESHUA as our Teacher, Master and Rabbi and submit to Him there is no way we will adopt a false belief, the enemy may deceive us for a while but always the Lord will set us free from deception showing us the truth if we follow Him.
The Lord YESHUA loves to teach us, we don't need to be special to be taught by Him, anybody can be one of His disciples, if we receive Him has our Teacher. Revelation doesn't come from researching; revelation comes only from the Teacher. The Teacher may lead you to research sometimes.
The Lord YESHUA gave to us the Ruach HaKodesh/Holy Spirit to lead us into all Truth; this is the way He teaches us, using the Ruach HaKodesh.
But when that One comes, the Spirit of Truth, He will guide you into all Truth, for He will not speak from Himself, but whatever He hears, He will speak; and He will announce the coming things to you.
(John 16:13 LITV)
Only when the Ruach HaKodesh is opening up a verse to us in the Scriptures we are receiving the Word of Elohim (God) and this Word can be easily understood, for example in the commandment of not stealing or to honor father and mother we receive the Word of Elohim is open to us, in other hand can be a new and unique revelation than can be seen by one person.† We are not saying that it is not necessary to read the Scriptures, we need the Scriptures in our memory but it will become "The Word Of Elohim" when YESHUA, using His Ruaj, will open a verse or a subject to you. Only then will we be eating from the Word of Elohim and thatís what we want to share and to receive.
We need to humble ourselves and recognize that none of us have the complete understanding of all the Scriptures. So in this site we will limit ourselves to share only things that the Ruach HaKodesh has revealed.
We understand also that the Ruaj HaKodesh is the one that will announce the coming things, so unless the Spirit is announcing, we will not share prophecy or interpretation.
How YESHUA speaks using His Ruach? Well, we know that YESHUA said My sheep know my voice. We recognize that the Voice of the Lord can be a vision or a dream received by any disciple, a prophetic word, a word of knowledge or a word spoken by a brother without even being aware, a verse in the Bible or even in the news. We need to recognize the Voice of our Shepherd when He speaks.
It is necessary to join in Spirit and truth to be able to worship Him the way He loves, that's one of the reasons why we need to share revelation.
The different truths that the Lord teaches us will bring deliverance in our life, because it is the truth that sets us free. That's why it is necessary to share revelations. There is bondage in the lies, and bondage brings blindness.
And you will know the truth, and the truth will set you free.
(John 8:32 LITV)
Fear of deception will not protect us from the false. Fear of deception will only bring deception to our lives.
The true teaching ministry teaches how to learn from the Teacher YESHUA, that's the real teaching! This is what we seek to teach here, "to learn how to learn from YESHUA". If we don't accomplish that, we will consider that we have failed.
We want you to become dependent on YESHUA not on men, we believe He is powerful enough to teach you and protect you from deception.
Any study here is just the beginning of a revelation that YESHUA himself will continue to teach you, even for eternity, if you open your heart and recognize YESHUA as your Teacher.
The revelations must continually keep expanding in our life. When a message of truth will stop advancing in our lives it is an indicator that we are not living close to the Lord.
Each message published here is a snapshot of what the person who prepared it knew in a specific moment, it may not be the understanding that the person who prepared it will have when you read or hear the message. Any message needs to bring you into a place that you will be able to start to drink from a stream that is coming from the Throne of the Lord.
We need to learn to discern the Voice of YESHUA to be able to learn from Him, the first step will be to confess with our mouth that YESHUA is our Teacher, only then we will become His disciples, even if we are new believers.
The Lord sends us to make disciples of Him, not to ourselves.
We invite you to read the messages published here, may YESHUA bless your reading.
All the honor to YESHUA
This site is copyright-free for all people. You can download, copy, print, and distribute it freely as long as you use for a non-profit purpose.